It seems like slowly over these couple of weeks all the kiddies will be back in school, studying hard (we hope) and in a total grinch frame of mind - out of my hair.
Now don't get me wrong I love kids, I mean I have one of my very own so I certainly have nothing against them but there's something about walking down the town during regular school hours and seeing an overwhelming crowd of children/teens blocking the doorways to the shops whereas usual they'd be stuck in a classroom somewhere (Our town is so small that it's probably only about 5 children at most at a time but it looks like a whole stadium full) so I personally am looking forward to there being times where I can peruse the local shops in complete and utter peace.
Plus I know those with school aged children are desperate to get the 'school' routine back - One day I'll join those ranks and feel that pain.
I have a little news for you all as well. I received a lovely email from Kasia of
Keep Cooking
telling me all about the new
Cook'd
app that they have launched.
It's a fab idea. If you hadn't have noticed on all of my posts that a recipe related you can now find a yellow Cook'd button. The theory is basically this, if you try my recipe you can click on the button and upload a photo of your creation letting myself and others know what you thought of the recipe.
And that is not all Cook'd are running a little competition for myself and yourselves. Basically any blog that has installed the Cook'd button is entered into the contest to win $200 and 2 sets of Cookbooks. The prize of which will be shared with one chosen reader of the winning blog, all you have to do is start trying out my recipes and uploading your pictures letting me know how you've got on. Simples.
Anyways it's week 26 of Sweet & Savoury Sundays and I'm so glad to see you all coming back each week.
So we have some wonderful features for you this week, you can always pop over to Lorraine and see if you're featured over there if you don't see yourself here.
Most Clicked Link:
If you've been featured please feel free to grab one of our buttons for your blog.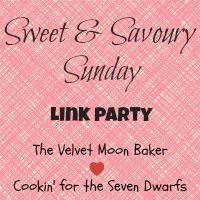 The Rules:
. Link up your DIY, Crafts, Recipe, Family related posts - Link up no more than 3
. Visit atleast 3 other links and leave some lovely comments to let them know you stopped by
. Please note by linking up you are giving your hosts permission to use your images if you have been featured, with link backs to your blog.
. Grab a party button and pop it on your blog.
Now on with the party!